Recordings, Rosa Ponselle on the Air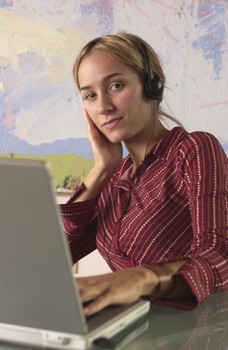 Volumes 1 (1934-36) and 2 (1936-37)
Arias from Aida, Alceste, Carmen, Cavalleria rusticana, Chocolate Soldier, Don Giovanni, Fedra (Romani), La forza del destino, Die lustige Witwe, Mademoiselle Modiste, Otello, Samson et Dalila, Semiramide, La traviata, La vestale
Songs by Bartlett, Bishop, Bizet, Bland, Bond, Brahms, Buzzi-Peccia, Charles, De Curtis, Del Riego, Dvorák, Eden, Falvo, Farley, Foster, Grieg, Griselle, Grosvenor, Kahn, Kreisler, Lockhart, Madden, Mana-Zucca, Nevin, Padilla, Ponce, Reger, Sandoval, Schaefer, Schubert, Serradell, Spross, J. Strauss, Tchaikovsky, Tchervanow, Tosti, Valverde
Marston (distributed by Harmonia Mundi) 52012-2 (2 CDs) and 52032-2 (2 CDs)
Not yet thirty at the time, Rosa Ponselle (1897-1981) was at the zenith of her career when she made her radio debut on New Year's Day 1927. The occasion was the inaugural broadcast of The Victor Talking Machine Hour, sponsored by the recording-industry giant for which Ponselle had been making phonograph records since December 1923. Despite the success of the program, Ponselle was not heard again on the air until New Year's Day 1928, when Victor reintroduced her to a growing nationwide radio audience. During the months separating the two broadcasts, Ponselle had sung La vestale, La Gioconda, La forza del destino, L'Africana, Cavalleria rusticana, Il trovatore, L'amore dei tre re, and Aida with the Metropolitan Opera, had appeared in thirty-seven concerts in nearly as many cities from Canada to Cuba during the off season, and had capped the year by singing the title role in the Metropolitan's revival of Norma, in which she had "won the transcendent victory of her career," in the words of one critic. 1
For the New Year's 1928 Victor Talking Machine Hour program, Carl Dreher, a columnist for Radio Broadcast magazine, was an invited guest and contributed this description of Ponselle during the broadcast:
She stands about three feet from the microphone and not much farther from the conductor, who is one of the regular maestri from the Metropolitan. [End Page 100] The orchestra of about thirty-five is behind her, and a mixed chorus of about the same number is back and to one side, full thirty feet from the transmitters. . . . Miss Ponselle weaves back and forth as she sings, varying her distance from the microphone according to the loudness of the passages. During piano portions she advances to a point where her mouth is about eighteen inches from the transmitters, while when she wants to hit a note hard she may get as far away as four feet. . . . Her assistant supplies the loud speaker ear for her. When he considers that she is getting too close he moves his hands apart with the familiar "So big!" gesture of the fisherman; when she is too far from the pick-up he advances the parallel palms of his hands to within a few inches of each other, and when she is hitting it right the coach signals with a short vertical gesture, palms down, like an umpire saying "Safe!" to a runner who has just slid into a base. 2
"It is very comical," Dreher added, ". . . to see her glancing constantly, with the hundred-thousand candlepower eyes which are part of her operatic equipment, . . . to see whether she is treating the microphone properly." 3
Between January 1928, when Dreher wrote his description, and October 1934, when the first of the programs heard in Rosa Ponselle on the Air were broadcast, the diva had become a bona fide radio star. At first reluctant to devote much time to the new medium, Ponselle began to change her mind in the 1932-33 season, when her income from radio surpassed her Metropolitan earnings. Especially to a shrewd business mind like hers, the arithmetic was too lopsided to ignore: compared to the rigors of a three-hour opera performance, which netted her $1,000 from the Met in the depths of the Depression, a one-hour radio broadcast earned her nearly $3,000 on average. 4 And unlike concerts, which required substantial train travel and overhead expenses, her radio appearances involved little more than a cursory rehearsal a day or two before the program was to air and a short commute from her Manhattan penthouse to a midtown radio studio on the evening of the broadcast. As Ponselle's career-long secretary, Edith Prilik, once commented, "Singing a couple of arias--and in any key that she felt like--and doing two or three ballads on top of that, didn't even seem like work to her." 5
Fortunately for posterity, a sizable portion of Ponselle's radio appearances on such popular programs as the Atwater Kent Radio Hour, General Motors Symphony, Ford Sunday Evening Hour, Chesterfield Hour, Heinz Hall of Fame, RCA Magic Key, and General Electric's Twilight Hour and Sunday Circle were preserved on "airchecks," or private recordings commissioned by the artist or the program's sponsor to critique sound levels and other production values. In later years, many of these airchecks were released on private LPs that were sold on a subscription basis. But these private LPs were both a blessing and a curse. Most of them were produced by Edward J. Smith, an opera buff and former correspondent for the Hollywood Reporter, whose mastery of tape-recording techniques [End Page 101] and zeal for tracking down airchecks were offset by a disregard for consistent sound quality, accurate documentation, or even authenticity. 6 Still, the numerous radio performances Smith was able to preserve and distribute through his "EJS" private label enabled thousands of opera enthusiasts to hear live performances by Ponselle and other singers of her generation when they were still in their prime.
Nearly fifty years later, fortunately, audio conservator Ward Marston had at his command digital equipment and techniques that make Smith's cursorily edited analog dubbings seem almost primitive. Marston also had the advantage of working from the original aluminum and acetate airchecks, obtained through the Rosa Ponselle Foundation (to which "a portion of the sales will go to the Rosa Ponselle Scholarship Fund," according to the liner notes), with additional source material provided by Lawrence F. Holdridge, William Shaman, Robert Fazio, Peter Lack, and especially Bill Park, a personal friend and the authorized discographer of the diva, and Marston's coproducer for this exquisite two-volume collection.
Between January 1927 and April 1937, when she chose to end her nineteen-season affiliation with the Metropolitan, Rosa Ponselle performed in seventy-five radio broadcasts. 7 Of these, five complete opera broadcasts (a 1935 Traviata, and four performances of Carmen in 1936 and 1937) and one partial performance (poorly recorded segments from a 1935 broadcast of Don Giovanni) are known to have survived. The rest of the singer's radio performances took place on widely popular musical programs, where her choice of material was limited to turn-of-the-century ballads, light-opera selections, sacred songs, and an occasional aria from the repertory she was then singing at the Met--mainly selections "not intended for a 'high-brow' audience," as Marston writes in the liner notes.
True enough, as far as it goes. By her own preference, however, and with almost no exception, the songs Ponselle performed on radio were staples of her concert repertoire. "I think that the artist ought to speak to the public, as they say, 'heart to heart,'" she told a Musical America interviewer in 1922. While acknowledging that "arias from her best-known roles form an important part of her recital program," she told her interviewer that she also liked "the simple song." 8 But to Libbie Miller, who began managing Ponselle's concert schedule in 1922 and eventually became her exclusive manager, these "simple songs" kept the singer from achieving the artistic stature that many of her contemporaries enjoyed:
She would sing classical songs and lieder only because she had to, but what she really liked were songs like "Annie Laurie," "Beautiful Dreamer," and old-style popular songs that were not suitable for anything resembling a recital. She also favored Neapolitan songs, which were very popular and which she did very well--but, again, Paolo Tosti is not Schubert. Later on, she also tended to pick what I would call [End Page 102] "novelty pieces"--songs like "The Night Wind" or "The Big Brown Bear," which are pure hokum. But in her mind they were entertaining, and when she made up her mind about a song, you could forget about trying to get her to change it. 9
Predictably, these "old-style popular songs" proliferate in both volumes of Rosa Ponselle on the Air: "I Love You Truly," "The Last Rose of Summer," "Danny Boy," "Annie Laurie," "Carry Me back to Old Virginny," "Home, Sweet Home," "Comin' thro' the Rye," "On Moonlight Bay," "Humoresque," "The Rosary," and "My Old Kentucky Home" are heard, often more than once, among the fifty-six songs these discs comprise. So too are "The Night Wind," "The Big Brown Bear," "What's in the Air Today?," "The Sleigh," "The Cuckoo Clock," and others that Ponselle sang in concert despite her manager's dismissal of them as "pure hokum." Which is not to say that they are too trifling to be appreciated on their own terms--especially when sung by an artist who not only understood but also could convey their sentiments "heart to heart," and who could mold their phrases with a voice and technique that most critics judged (as Olin Downes once wrote) "probably the greatest soprano voice of her generation." 10
Not all of the songs in these two volumes are drawing-room ballads and novelty numbers. Ponselle routinely included Spanish, French, and German selections in her broadcasts, just as she did in her concerts. Her forays into Spanish, as evidenced by airchecks of Valverde's "Clavelitos," Buzzi-Peccia's "El Morenito," and such standards as "Estrellita," "La Golondrina," and "La Violetera" (which was then enjoying newfound popularity after Charles Chaplin featured it in his 1931 film City Lights), are vocally beautiful but decidely unidiomatic. Even more so are Ponselle's performances in German--Schubert's "Der Erlkönig," Brahms's "Wiegenlied," and Reger's "Mariä Wiegenlied" among them. All are sung phonetically and tend to betray the diva's insecurity in a musical culture that was literally and figuratively foreign to her. They are offset, however, by the sacred songs that Ponselle chose for her broadcasts--especially her performances of "Ave Maria" by Schubert, Sandoval, Kahn, and the Weatherly adaptation of Mascagni's Cavalleria intermezzo.
Ponselle's star shines brightest, not unexpectedly, in the Neapolitan songs she learned in the Italian communities of Meriden, Waterbury, and New Haven, Connecticut, where she matured from a nickelodeon pianist to a café singer. It was in New Haven that her raw talent compelled a well-to-do Italian restaurateur, James G. Ceriani, to take her to the Metropolitan Opera and assure her that one day she would sing there. A few of the popular Italian songs that Ponselle sang as a teenager, in New Haven's San Carlino movie theater and Ceriani's popular Café Mellone near the Yale campus, were still delighting radio audiences nationwide two decades later--especially Tosti's "L'ultima canzone" and "Addio," De Curtis's "Carmè," and Falvo's "Dicitencello vuje," all of which survived in aircheck form and can be heard in Rosa Ponselle on the Air. [End Page 103]
Among the eighty-three broadcast excerpts contained in these two volumes, less than a fourth are opera arias. With the exception of "Bel raggio" from Semiramide, "Batti, batti" from Don Giovanni, "Printemps qui commence" from Samson et Dalila, and "Divinités du Styx" from Alceste, none of which Ponselle ever sang in the opera house, the remainder of the arias heard in On the Air are from roles she was performing at the time. Listening to her sing "Voi lo sapete" from Cavalleria, "Addio del passato" from Traviata, and "Ritorna vincitor!" from Aida clarifies as could little else Ponselle's preference for listening to her airchecks instead of her commercial recordings. "I'm not that fond of many of my recordings. The tempos were either too fast or too slow because of that damned clock on the wall," she said, referring to the limited running time of 78 r.P.M. records. "But on radio, I sang most everything just like I sang it at the Metropolitan or like I would sing it in one of my concerts." 11 "Even [on] the best [records] I made," she went on to say, "I still don't hear the full sound of my voice. That's why I like to listen to the [airchecks] they made from my radio broadcasts like The Chesterfield Hour, which I did with André Kostelanetz, and especially my Traviata and Carmen [Metropolitan Opera] broadcasts. When I listen to those, I can hear more of my voice than I can on my records." 12
So can we, thanks to the quality of sound Marston has been able to extract from time-worn metal disks recorded nearly seventy years ago, with no thought given to their permanence. To hear Ponselle freed from the spatial confines of a recording studio and the limitations imposed by "that damned clock" is to hear her opulent tones endow "Ritorna vincitor!" with a richness and a nuance that her otherwise excellent Victor electrical recording approximates but never quite equals. The same holds for her radio performances of Cavalleria's "Voi lo sapete," in which the sheer power of her voice is a reminder why she was labeled "Caruso in petticoats" shortly after her Metropolitan debut.
Other radio performances--in particular, "Addio del passato" from Traviata (from a 1934 Chesterfield Hour broadcast) and "La Vergine degli angeli" from Forza (captured on an aircheck from Then and Now, a series aired in 1936 by Sears, Roebuck and Company on the occasion of its golden anniversary)--correct defects Ponselle heard in some of her commercial recordings and on-air performances to which she often called attention in interviews. "I just didn't put enough of myself into it that day," she said of her "Addio del passato" in a June 1935 Met broadcast of Traviata. 13 But under Kostelanetz's baton in Manhattan's Hudson Theater, where The Chesterfield Hour weekly programs were broadcast, Ponselle felt she gave a better performance of the aria. The same with "La Vergine degli angeli," which she had recorded for Victor in 1928 with Ezio Pinza and the Metropolitan Opera Chorus. "That record is bad--my part of it, I mean, not Pinza's," she said emphatically. "Somebody in the [Victor] studio turned up the volume on my microphone, which made me sound like I was singing Gioconda, which is hardly the way I would sing a prayer. In the [opera] house I sang it in mezza voce, which is how it's marked." 14 On the Sears Then and Now program, notwithstanding the lack of a basso and the wayward [End Page 104] singing of an anemic chorus, Ponselle indeed delivers the scene with prayerlike subtlety.
Two other arias from the diva's repertory would never be heard at all were it not for airchecks on which they were captured and preserved. Ponselle's performance of "O divina Afrodite" from Romano Romani's Fedra, from her 1936 appearances on The Chesterfield Hour and RCA's Magic Key program, displays her dynamic range in an aria expressly written for her voice. Arguably more important is a Chesterfield Hour aircheck of "Tu che invoco" from La vestale, in which Ponselle was lauded at home and abroad for her mastery of "Spontini's long, gravely sculptured melodies" and the "stilted pathos that is their quaint and special mark." 15 Her success as Giulia in the Metropolitan's revival of 1925-26 presaged her crowning achievement as Norma two seasons later, when the formidable critic W. J. Henderson pronounced her "without doubt the foremost dramatic soprano of the Italian opera." 16 As heard in an April 1936 aircheck included in volume 2 of On the Air, Ponselle was still able to replicate that same mastery in "Tu che invoco" a decade after her initial triumph at the Met.
Overall, the two volumes of Rosa Ponselle on the Air fill a void in the singer's recorded legacy. Between January 1929 and November 1939, Ponselle made no commercial recordings at all, choosing instead to take advantage of the exposure and income she could derive from network radio performances. Consequently, the airchecks that she or her sponsors arranged to have recorded not only bridge that ten-year gap, but also capture the legendary Ponselle voice as operagoers and concertgoers heard it in the latter years of her Metropolitan career. And as with other Depression-era radio programs, the airchecks heard in On the Air have a historical and cultural significance that goes beyond their musical worth. Marston, by choosing to include the voices of the announcers who delivered the spoken introductions to Ponselle's radio appearances, has managed (as he writes in the liner notes) "to convey the atmosphere of the original broadcasts." To those who have experienced the plumminess of tube-amplified music pulsing from a magnet-driven speaker in a Zenith or Crosley superheterodyne console, the formal yet inviting voices of Milton Cross and his contemporaries will be nostalgic reminders of a time when every musical genre from jazz to grand opera were heard routinely on network radio.
If the remarkable restorations contained in the two Marston volumes are not entirely matched by textual accuracy (in volume 1 Ponselle is misidentified as "Rosa Raisa" in one photographic caption, and in volume 2 the tenor James Melton is referred to as a "conductor"), these are minor errors of no more significance than eraser marks along the margins of a well-written page. Individually or in tandem, the two volumes of Rosa Ponselle on the Air are a must for those who appreciate the majesty of a true dramatic-soprano voice. "I would express it this way," Metropolitan coloratura Nina Morgana said when describing the unique voice of her colleague and friend: "From the A-natural in her upper range to about an F an octave below it, the tones that Rosa Ponselle [End Page 105] sang may have been the most beautiful that ever came from a woman's throat."